YOUR FITNESS JOURNEY
When it comes to fitness, everyone is different. Through a fitness assessment, our certified trainers will get to know you and your goals and evaluate your mobility, movement and more. From there, our trainers will create a customized program, customized homework as well as dietary assistance and planning. Our trainers are dedicated to helping you reach and exceed your goals.
GET STARTED
Start with a Fitness Assessment.
Give us a call, send an email, fill out this form, or visit us to get started!
(415) 525-4364
TRAIN ANYWHERE
Indoors at the Gym
Our indoor gyms are open at the Fairmont Hotel, Hayes Valley and Inner Richmond locations with limited capacity. See locations.
Outdoor Gym
Get some fresh air paired with stunning views at our exclusive rooftop gym at the Fairmont Hotel! Learn more.
In the Park
Our trainers will bring the equipment and meet you at a park near you! Give us a call to find out more.
Virtual
Workout from the comfort of your own home and work with your trainer over a video call!
NASM, Certified Personal Trainer
Associates Degree in Science, Behavioral Science
Areas of Specialty:
Postural Correction
Weight Loss & Maintenance
Core Strength Training
Corrective Exercise
Bachelor's Degree in Physical Education & Recreation
TRX Suspension Trainer
NASM, Certified Personal Trainer
Areas of Specialty:
Injury Recovery
Kick Boxing
HIIT & Circuit Training
Muscle Development
B.S. Exercise Physiology
NASM, Certified Personal Trainer
Areas of Specialty:
Strength & Conditioning
Corrective exercise
Bodybuilding & weight loss
Functional Training
NASM, Certified Personal Trainer
UCLA Bruin Fitness Leadership Program
Areas of Specialty:
Athletic Training
Functional Movement
Bodybuilding/Muscle Mass Growth
Strength and Conditioning
NASM, USA Basketball
Areas of Specialty:
Sports Specific Training
HIIT & Metabolic Conditioning
Muscle & Strength Building
GVT Programming
NASM, Certified Personal Trainer
Areas of Specialty:
Muscle Gain
Strength Training
Weight Loss
Accountability
NAFT, Certified Personal Trainer
Areas of Specialty:
Muscle Gain
HIIT
Weight Loss
Mind/Muscle Relationships through Movement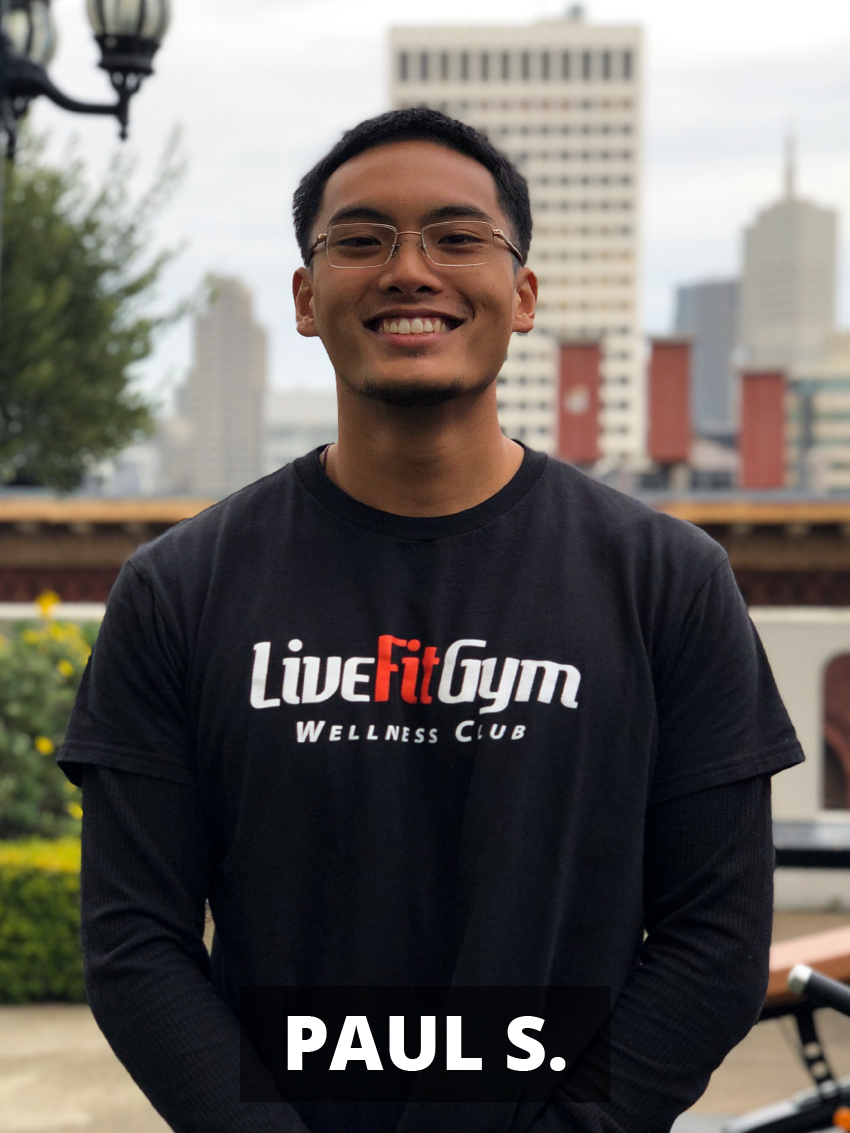 Bachelors of Science in Kinesiology
CPR/AED Certified
Areas of Specialty:
Strength & Conditioning
Preventative Exercise & Injury Recovery
Functional movement
Circuit training
PTA Global Level 1 Certified Personal Trainer
Active IQ Level 2 & 3 Certified Personal Trainer
Areas of Specialty:
Strength Training
Functional Training
Stretching and Mobility
Weight Loss
Victor Chung
Bachelor's Degree in Kinesiology: Exercise and Fitness Specialist
Victor started his fitness journey entering college. His own progress and development led him to pursue a degree in exercise and fitness. His newfound passion is to apply his knowledge to guide others on their fitness journey. Victor listens to your goals, recognizes your needs, and will build a path for you to succeed. Coming from a group exercise and boxing background, his workouts are challenging but well worth it!
Areas of Specialty:
Strength and Conditioning
Muscle Development
Weight Management
HIIT
Boxing
Lonnie Phounasavath
ISSA Certified Personal Trainer
Lonnie has been a certified personal trainer through ISSA for 8 years. I help people not just with fitness and exercise, but also with their daily lives. He caters to your specific training style based on your way of living, career choices, athleticism, and any limitations or lack thereof.
He focuses on calisthenics (bodyweight) and powerlifting exercises, which help develop muscular and cardiovascular endurance. Lonnie is extremely adaptable – he has experience working with seniors and clients with pre-existing injuries.
Areas of Specialty:
Calisthenics
Strength Training
Powerlifting
Muscular Endurance
Body Fat Loss
Nutrition Assistance
Corrective Exercises
Functional Training
Trigger Point Therapy
Sean Khelif
ISSA Certified Personal Trainer
Sean is a pure athlete. He spent 7 years dedicated to football and 3 years to track and field; not to mention being an NPC national ranked bodybuilder. These achievements have shown him that discipline and consistency are crucial tools for creating the perfect vision of yourself. He was introduced to training at a young age and has been passionate about helping others achieve their fitness goals ever since.
He believes that sculpting your body in the gym is the most confidence-boosting thing you can do. You can see the benefits of training in all aspects of your life from personal to social as your mindset begins to shift for the better.
"One day or day one"
Areas of Specialty:
Muscle Gain
Weight Loss
Nutrition
Meal Prep
Contest Prep
Strength Training
Jonathan Thomas
NASM Certified Personal Trainer, CPR/AED Certified
Jonathan is a Bay Area native that has been in San Francisco for over a decade. After spending nearly 13 years as a professional Chef, he decided to make a career change and step into the world of fitness. While gaining results and watching clients around him achieve the same goals, he quickly enrolled in the NASM CPT program. In his downtime he can be found riding his bike around the city enjoying quality coffee, checking out new food spots, or going to museums.
Areas of Specialty:
Functional Training
HIIT
Stability
Circuit Training
Strength
Douglas Malagon
National Personal Training Institute, Onnit Academy Certified, USA Weightlifting Certified Coach
Originally from SoCal, Doug's mission is to support his community by empowering members to live a healthy and more balanced lifestyle, both mentally and physically. Doug has 12 years of personal training experience, is an active Muay Thai kickboxer, and is a proud cat dad.
Areas of Specialty:
Cross-Training
Weightloss
Lean Muscle Development
Kettlebells
Gregory Wolfenden
NASM Certified
Greg has a true passion for fitness and living a healthy + active lifestyle all while motivating those around him. He hopes to share his passion and years of experience with those who attend his classes. His classes offer a variety of exercises that are designed to improve both muscular strength and cardiovascular fitness, plus some great tunes to help you stay motivated. In his free time, Greg enjoys taking classes with friends and volunteering with both local and national LGBTQ+ organizations.
Jesse Jaime Jr.
B.A Sports Management
ISSA, Certified Personal Trainer
CPR/AED
Certified HIIT Instructor
Sports Performance Coach
Jesse is a big advocate of providing the best tools for his clients to reach their desired goals. He comes from a lengthy background in sports; wrestling for almost 15+ years. After graduating in 2020 and competing at the Division 2 level, he coached collegiate-level athletes. Jesse hopes to bring that same passion and energy to personal training and genuinely help individuals grow both physically and mentally. He also ran a successful meal-prepping business in Los Angeles before moving to San Francisco and starting his Live Fit journey.
Areas of Specialty & Background:
Strength Training
Nutrition Assistance | Meal Prep
Muscular | Athletic Performance
Mobility | Core Stability
Collegiate-level Wrestling Coach
ERNEST LARDIZABAL
NCSF, Certified Personal Trainer
PN1-NC, Certified Nutrition Coach
Before Ernest became involved with training, he was involved in various sports including cross country, track, basketball, and martial arts. He began training with highly experienced coaches and trainers to become stronger and eventually became inspired enough to pass this knowledge to others.
Ernest creates a holistic view in helping his clients become the best versions of themselves. His passion grows as he watches his clients succeed and remain accountable inside and outside of the gym. What clients can take away from him is creating the mental capacity to accomplish their fitness goals.
His main skill outside of fitness is drawing and enjoys barbering and doing car mods in his spare time. Ernest developed many of his skills through the military and is a proud veteran.
Areas of Specialty & Background:
Weight Management
Calisthenics Expert
Body Recomposition
Nutrition
UDOKA UWAKWE
Hey, my name is Udoka Uwakwe! I'm a Personal Trainer who has a degree in Kinesiology and Nursing. My passion is to help people change their idea of fitness by training with functional movements that are transferable to all lifestyles. I believe that a holistic approach to fitness and wellness is of utmost importance. I firmly believe that good health leads to a happy life.
"Tomorrow is too late, yesterday is over, and now is exactly the right moment to start."
Areas of Specialty:
Exercise Rehabilitation
Speed and Agility
Muscle Development
Olympic and Powerlifting
High-Intensity Interval Training (HIIT)
Nutrition
Jaden Kramer-Melnick
Jaden was born and raised in a small rural Vermont town and moved out to San Francisco five years ago. Jaden graduated from the University of Vermont with a degree in Elementary Education and a love for teaching. Being interested in fitness for many years sparked his motivation to become a personal trainer. He has been certified through NASM (National Academy for Sports Medicine) and is in the process of getting his Nutrition Specialist Certification as well. Jaden is looking forward to sharing his love of fitness, nutrition, and sharks with the LiveFit Gym community.
Areas of Specialty:
Strength training
Functional Training
Weight loss
Stretching & Mobility